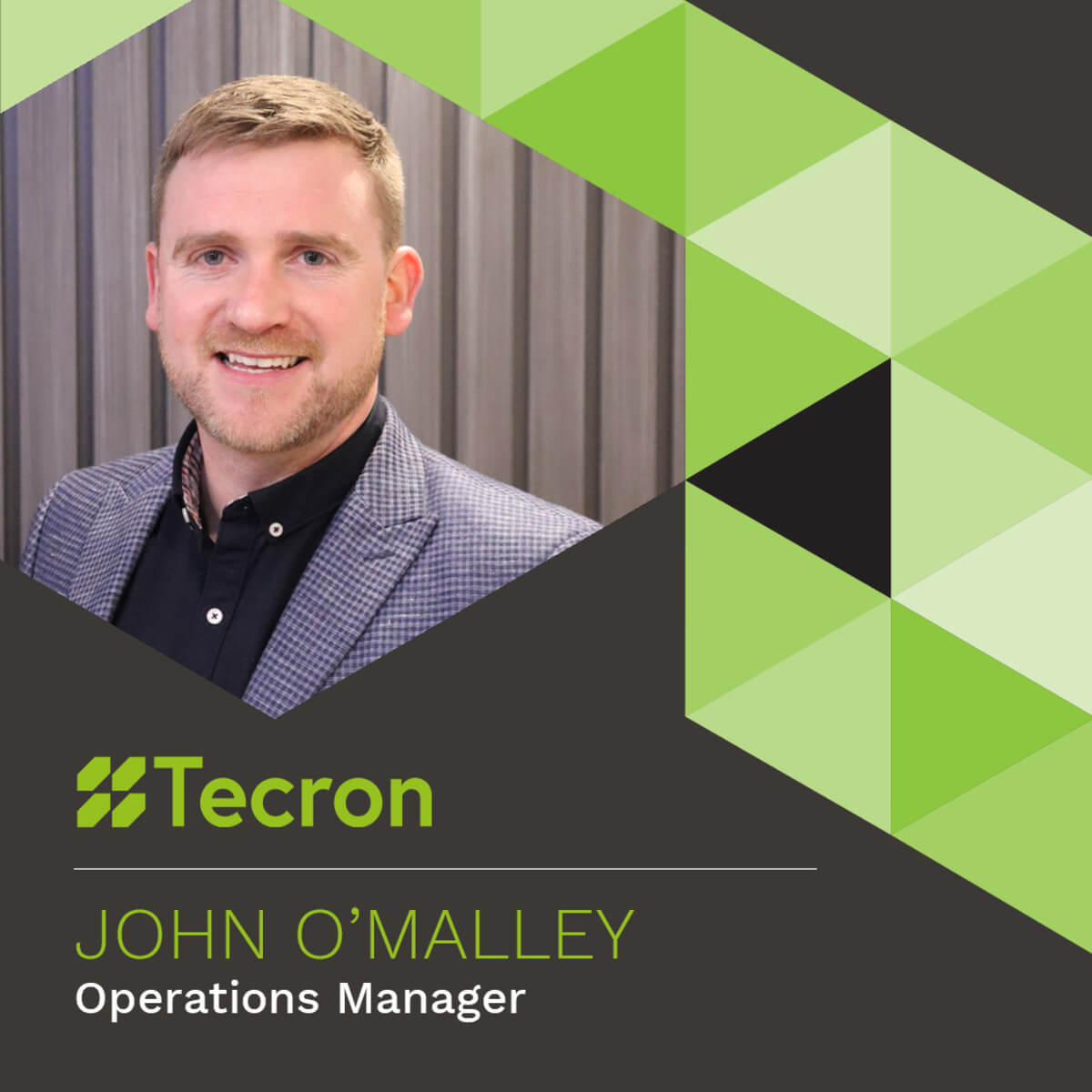 At Tecron, we believe that the strength of our brand isn't just in the quality of our products, but also in the talent and dedication of our team. We pride ourselves on fostering a culture where every individual is valued, and their unique skills and perspectives contribute to our collective success. Today, we're excited to give you a behind-the-scenes look at one of the key figures in our team: John O'Malley, our Operations Manager.
Introducing John O'Malley
John has been an integral part of the Tecron family, ensuring that our operations run smoothly and efficiently. With a role that spans across various departments and interfaces with our valued customers, John embodies the spirit of collaboration and professionalism that Tecron stands for. He's some guy for one guy!
A Day in the Life
When asked about what a typical day looks like for him at Tecron, John says, "No two days are the same for me. My role involves working with every department of the business and our customers. I very much enjoy the interactions and seeing tasks completed in a professional and timely manner."
The Joy of Diversity
For John, the best part about his role is its multifaceted nature. "It's diversity," he shares. "My role is much like a jigsaw; there are many components to blend together, and there is a great sense of satisfaction once the final piece is added."
Tell Us, John: Why Tecron?
For those considering a career at Tecron, John has a simple message: "Tecron is a growing and dynamic company with a great atmosphere. We have a friendly and energetic team, and there is always someone on hand to lend assurance on technical matters when required."
Getting Personal with John
Outside of his professional life, John has a range of interests that keep him busy:
-Hobbies: "Cooking, Fishing, Kayaking, Soccer. I enjoy keeping up to date on current affairs and spending quality time with family and friends."
-Dream Living Location: "I like the idea of living in a warmer country, but in reality, I love living in Ireland. I'd possibly move back over the border to Mayo, though I think my better half has other ideas."
-Dream Job: "Cartoon Voice Actor."
-Skill Aspiration: "I'd love to learn how to play the Banjo."
-Favourite Quote: "Failing to prepare is preparing to fail."
-Go-to Song: "Bruce Springsteen – Mary's Place."
-Ultimate Meal: "Homemade chicken & mushroom vol au vent, homemade fries, and salad."
-Dream Dinner Guest: "Roy Keane, for his one-liners!"
-First Purchase if He Won the Lottery: "Land Rover Discovery."
-Desert Island Entertainment: "Fishing rod – practical and fun!"
Thanks to John for joining us on this behind-the-scenes journey. Stay tuned for more insights and stories from the team at Tecron!
Join Our Team
John's journey at Tecron is a testament to the opportunities and growth that await those who join our team. If you're inspired by John's story and are looking for a dynamic, collaborative, and rewarding work environment, we invite you to explore career opportunities at Tecron. Together, we can build a brighter, more sustainable future in the world of construction.